Dear Visitor,
Welcome on our website. The Széll Kálmán Foundation was established in December 2003 with the aim of providing its members with an invitation-only intellectual platform where they can share information on social, economic, or even philosophical and very practical political issues on a regular basis. This is a circle of people who think in terms of nation, development and future perspectives, most of them being economics professionals. We want to give a genuine opportunity to creative people who share the conviction that the purpose of their work is to improve the quality of life, to make their children and grandchildren free, i.e. to enable them to live in dignity in full control of their lives. The success of a country depends on being well organised, on the predictable and effective operation of the institutional system designed to serve the freedom, prosperity and security of the people.  The basic institutions promoting prosperity include the protection of property and the freedom of enterprise.  The slogan Kálmán Széll chose for his term of office as prime minister and actually his whole life - "Law, justice and rights" - is the principal motto of our Foundation.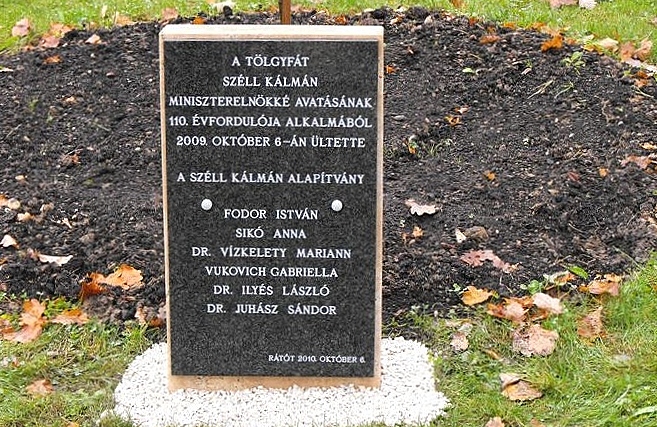 Memorial wreaths on oak trees planted by our foundation on the day of the 13 Martyrs of Arad
The Széll Kálmán Foundation, the local council of the village Rátót, the owners of the Széll Kálmán manor house, the Hungarian Forestry Association, the Hungarian Development Bank and the Szombathelyi Erdészeti Zrt. organised a commemorative ceremony in the Széll Kálmán manor house on 6 October 2011 on the occasion of the 162nd anniversary of the execution of the 13 Martyrs of Arad and the 160th anniversary of the establishment of the Hungarian Forestry Association.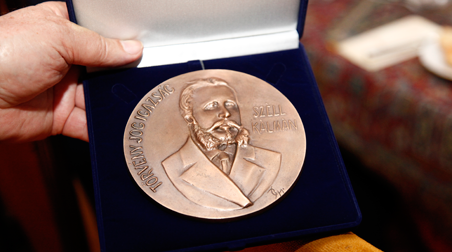 Széll Kálmán Award
Similarly to the person who gave his name to it, the Széll Kálmán Award aims to recognise the activities of renowned public figures, prominent economists and businessmen who have made contributions on the basis of their experiences and resulting sensible approach.  The people who have been awarded so far have done a lot to familiarise the highest number of international decision-makers and opinion shapers with Hungary, and presented Hungary's business and political activity in the spirit of liberty, honest prosperity and the rule of law.